© 2022 Red Hot Red Erotica 
Red and I dipped our toes in the swinger lifestyle last weekend.
Our first swinger party was an amazing experience with amazing people.
Podcast-a-Palooza was a hotel takeover event in Palm Springs, June 3–6, put on by Cate of Wanderlust Swingers. The event was sponsored by #Open and had some of my favorite podcasters: The Monogamish Marriage, Casual Swinger, Swinger University, 2HotWives, Black N Kinky Lifestyle, Average Swingers, Bed Hoppers, 4OurPlay and Life of Spice (I think I got them all.) It was so much fun to meet everyone in person, make connections and party.
Spoiler alert…this was our first lifestyle experience so we had no expectations of playing with others…but Red and I fucked each other throughout the weekend and made friends that we would like to fuck in the future. (Is that socially acceptable, "…we made friends we would like to fuck…"?)
Friday night started with a meet-and-greet, drinks and getting to know people, followed by a costume party with a Future Fluro theme.
The scene was sci-fi movie, meets strip club, meets rock stars...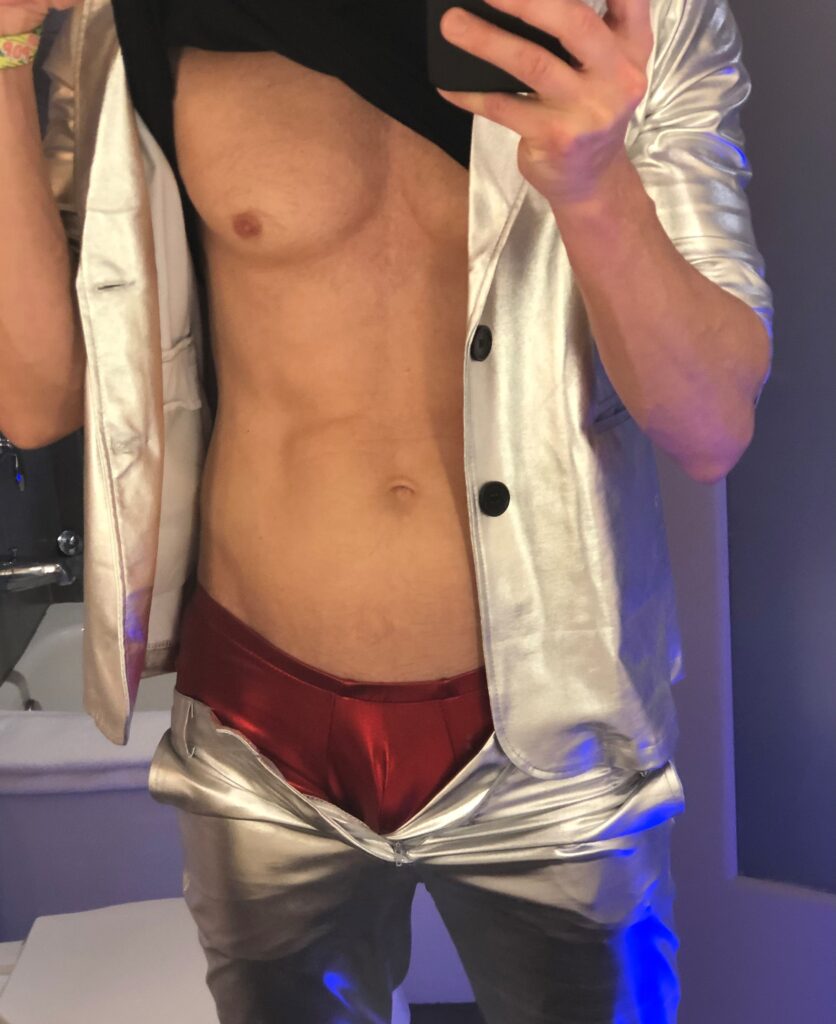 Lots of color, bright lights, and exposed skin. We were dancing, meeting people and hearing the stories of their journeys in the lifestyle. Red's LED party dress was a big hit as she lit up the dance floor.
We left the party to go to the playrooms and observe everything from couples sucking and fucking, threesomes, foursomes, and I think an all-out orgy. At one point, three or four women were simultaneously moaning to orgasm. That audio was one of the hottest things I have ever heard. We had the pleasure of watching one woman ride a Motor Bunny machine. She was cumming within a couple minutes as her husband held her hand.
We were exhausted by the time we got back to our room. Yes, we went to sleep. Saturday 3am, we woke to the sound of a female in the room next door climaxing.  When we awoke a few hours later, we were so horny. I started rubbing Red's back, lubed up my cock and fucked her while massaging her. I flipped her over, put a generous amount of lube on her vulva and clit and rubbed my hard cock on her clit until she came. I continued fucking her, then went down on her and she had a few more orgasms. She has been having a lot more sequential orgasms the past few months, which is awesome. I finished inside her missionary.
Saturday was a busy day with several sessions with speakers covering topics in the lifestyle. A whiskey tasting with Casual Swinger Mickey giving an overview of each whiskey while the beautiful Casual Swinger Mallory poured a tasting for everyone.
Side note: Mallory was a highlight of everyone's weekend. Mickey is a handsome guy and one cool dude…but Mallory…holy shit she is hot!
Think super sweet, beautiful face, cheerleader body, sexy voice that makes you melt, and oozing with feminine energy.
Then it was off to the pool for some mostly naked fun. Great conversations, drinks, and getting to hear the personal stories of everyone we met. We had dinner with Ed and Phoebe of Swinger University, then the night party with a Pop Art theme. We danced the night away and again stopped in the playrooms to watch the fun. We spent 30 minutes making out and fondling each other before going back to our room to fuck some more.
Again, Sunday 3am, we woke to the sound of a female in the room next door climaxing. Later morning, we went to session presented by Mickey and Mallory, Casual Swinger on how to document your playtime. The best audio/video equipment, the best techniques, and important things to know about how to post, store and protect your personal porn.
We were back at the pool for some more mostly naked fun. Not gonna lie…another weekend highlight was getting a bare-chested hug from the beautiful Mallory. Off to another session on designing your own lifestyle relationship with your partner. Then back to the pool for the Mankini plunge. Imagine about 40 men in anything from their wives' lingerie to thongs or skimpiest of underwear, lined around the pool while the ladies tucked dollar bills under and in our near non-existent coverings. All the proceeds were tips for the bartenders. 
Red and I made our way back to our room for some more fucking.
I stuffed her ass with a butt plug, fucked her and ate her to more multiple orgasms. After she had hers, I fucked her doggy style with the beautiful sight of her round ass, feeling her butt plug press against my cock as she grabbed her ass cheeks with her hands, pink fingernails splayed across her juicy ass. I came so hard; it went on for a long time.
Off to dinner and one last party with a color splash paint theme. Everyone wore white and we painted our bodies and attire with creative designs, and more dancing. We skipped the playroom and went back to our room and ended the evening with…yes, more fucking.
Monday morning was breakfast, again with the wonderful duo of Swinger University, then saying goodbye to everyone, exchanging information and having great feels about everything we experienced. On our trip home, Red and I had conversation about new possibilities and excitement about our journey ahead. No promises, but I hope to be writing to you about sexy fun with others in the future. xo
© 2022 Red Hot Red Erotica