© 2023 Red Hot Red Erotica
Consensual sex includes negotiation and mutual agreement, especially BDSM.
Negotiation is more intuitive the better you know your partner. When I write erotica, like sex in real life, I want to explore kink dynamics with mutual consent. I have authored a few stories for my friend Sabrina. In this latest story, she challenged me with her desires. She wanted to be as naughty and wild as possible. She wanted me to let my imagination run wild.
I called Sabrina, asking her for a play date. Knowing she likes intense sex and has impressive sexual capacity, I want to facilitate a gang bang for her. Not three or four guys…more like ten. She was excited about the potential.
"Where are we going, a sex club?" she asked. "No, we're going to a cheap motel and I'm going to whore you out," I replied. She gasped in pleasure.
I kept the details to myself, both to surprise her and to build anticipation. She asked me what she should wear. "Something revealing…and don't bother with lingerie," I recommended. When I arrived to pick her up, I was more than pleased with her choice of attire. She wore a black sheer halter top, pink mini skirt, a black leather crop top jacket, stockings, heels, heavy eye makeup and of course, no bra or panties. Her black nail polish was chipped. I love that look. It shows that she is girly, yet confident when it's not perfect…a desirable characteristic for a hooker. I also noticed that she had a snag in her stockings, making the look complete.
As long as I've known Sabrina, she's been my crush. "Wow! You look amazing. I'm more than tempted to keep you for myself this evening," I admitted. Though this was no time for sentiment. Fulfilling her desires is something I love to do and that was going to happen tonight. I kissed her and told her what I expected from her for the evening. I would be there to keep her safe. If she was physically uncomfortable, she could say, "less pressure" for example. If she was emotionally uncomfortable, she could pause the action to get herself settled. If she needed, her safe word is "home," and she would be finished for the night…though she would not earn any money. 
As we left, I blindfolded her to keep the mystery of where she would be working, a cheap roadside motel.
While we were driving, I describe the men, how I knew them, and what they would pay for her services. "$500 a piece for all three of your holes…the full menu…and if someone wants to unload more than once, he will pay for each time. Ten guys committed, though more have been invited, so I'm expecting a few more. Oh, and by the way…everyone wants your full menu. Based on your looks, I'm sure several of them will have enough reserves to fill you up twice," I smiled knowingly.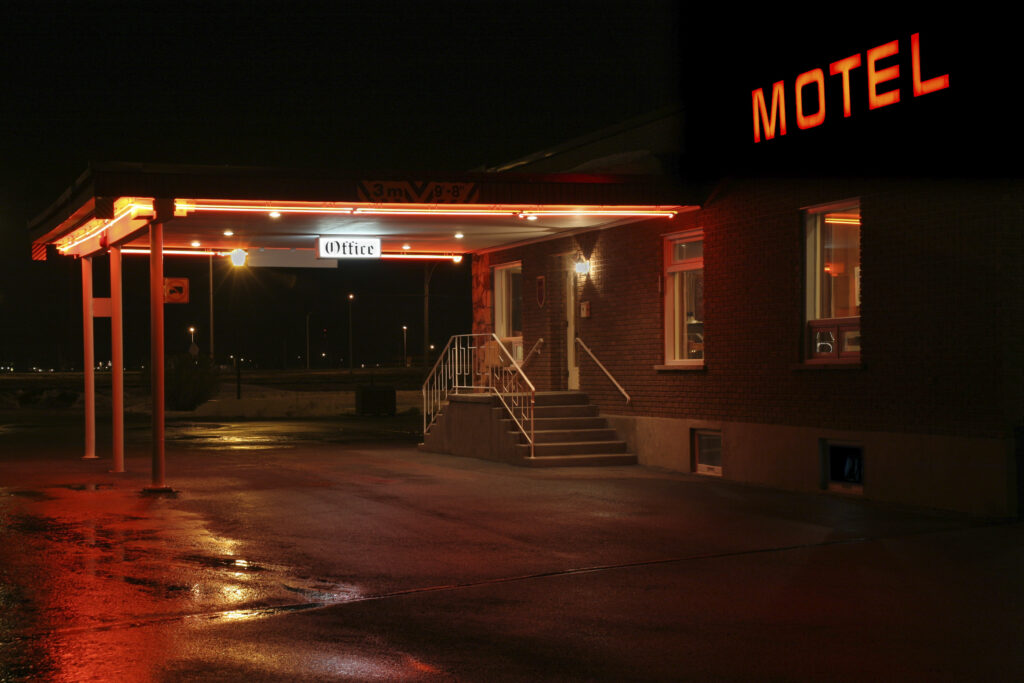 We arrived at our destination. The motel was vintage from the '60s or '70s. We stopped at the lobby car park to check in. I removed Sabrina's blindfold and told her to wait in the car while I checked in and got the room keys. We had two rooms with adjoining doors so there would be a second restroom and more space for everyone to relax while waiting for their turn. As I returned to the car, the lights from the car park gave me a clear view of Sabrina, sitting in the passenger seat. She looked an exotic combination of beautiful, slutty, confident, and in her element. I knew it was going to be a successful evening.
I parked near our rooms. The lot was half full, so there was plenty of parking space for Sabrina's tricks. I unlocked the door and stepped into the room. The room smelled of cedar and the mini-frig hummed.
I turned to see Sabrina's silhouette in the doorway, outlined by the red glow of the neon motel sign behind her. Her image was iconic.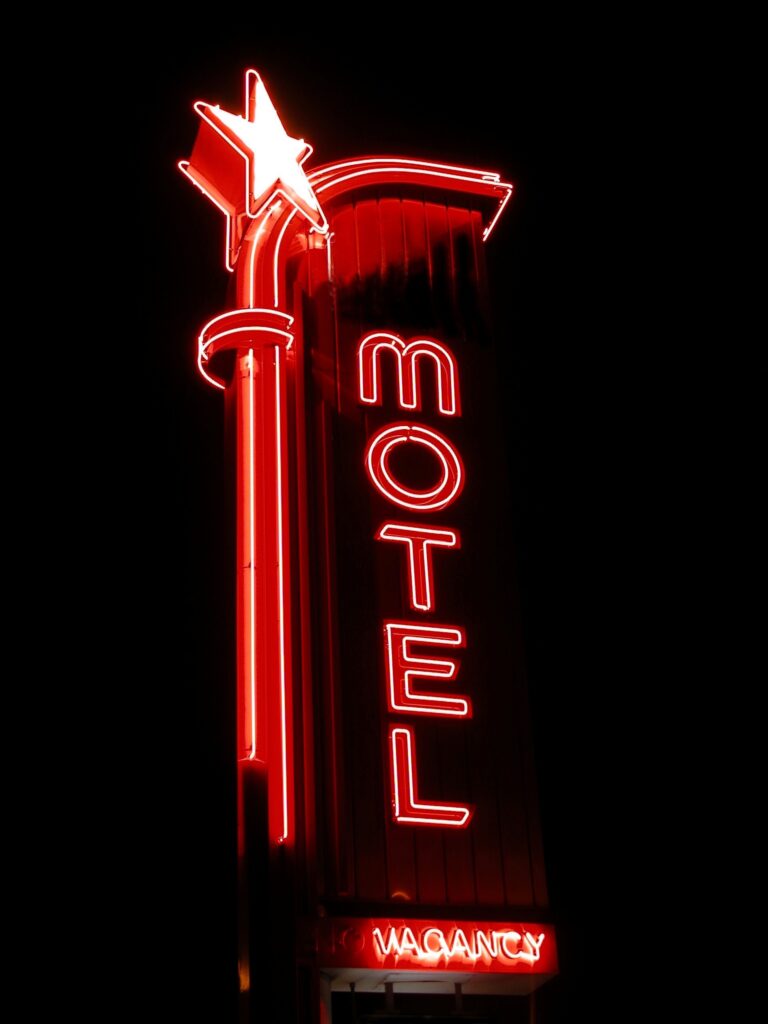 I wish I had taken a picture. I could not help but kiss her.  Sabrina is a great kisser. Her lips are like pillows and her tongue knows the perfect amount of give and take. I pushed her onto the bed. "Let's warm you up for the evening," I said, and went down on her. The scent of her pussy is divine and made me hard. After teasing her to the edge of orgasm, I stood, unzipped my pants and told her, "Suck my cock while you masturbate. Be a naughty girl and use both your hands to get yourself off." I put a hand atop her head and used my other hand to tease my cock around her lips. "That's it, open your mouth and show me your tongue." I slide the underside of my cock along her tongue. "Now wrap your lips around my cock while I fuck your mouth," I instructed. I slowly stroked her mouth and encouraged her to finger herself. 
"That's it, touch yourself like a dirty girl. You want that orgasm, don't you?" I coaxed.
Within minutes, she was moaning with my cock in her mouth, having an orgasm. She was still quivering when I told her to show me her ass. She rolled over on the bed, lying prone. I slapped and bit her ass, and ate her sweet little asshole. I knew that in an hour or so, her hole wouldn't be tight, it would be gaping open. She needed a warmup. I applied lube and worked my cock into her backside. She moaned as I slowly penetrated her. It didn't take long, and I felt her loosening up. Her moans, the scent of her perfume, the sight of her miniskirt pulled up, exposing her bare underside and the thought of how much dick she would be taking tonight pushed me over the edge as I came in her ass. Sabrina loves a good ass fucking. She was certainly going to get it tonight.
I told her to freshen up while I prepared the rooms with towels, lube, bottles of water and some snacks. We certainly didn't want her losing her stamina. It wasn't long before headlights were reflecting in the window as cars parked. I greeted the guests and had them meet in the spare room. When everyone arrived, I explained the rules, "If she is physically or mentally uncomfortable, she will say what she needs. Give her what she asks. If she has to say it twice, you are finished for the night. No refunds." I opened the adjoining room door.
"Darling, come say hello to your customers," I requested. Sabrina came into the doorway, blew a kiss to the room, then spun around and pulled up her miniskirt, showing off her perfect ass.
There were wide eyes and verbal sounds of approval. Ok, money up front, now," I instructed. As expected, everyone wanted Sabrina's full menu. There were eleven men in the room and $5,500 on the table. "Who wants to buy a second round?" I asked. Four guys immediately doubled their money. Seconds later, three more anted in. There was now $9,000 on the table.
"One more thing," I said, holding up a black marker, "when you finish the first time, put a tally mark on her left ass cheek and a tally mark on her right ass cheek for those who will finish a second time."
Sabrina was nervous and excited as she scanned the room looking at the men. She noticed they were all different; big, muscular, slender, compact, tall, rock hard, stocky, thighs like tree trunks, sweet smiles, devious looks, chiseled chins, handsome, dark skin, light skin, clean shaven, scruffy, and all very, very horny for her.
I led her to the foot of bed and turned on her music. "Ok Darling, give us a dance and take off your clothes," I instructed. She did not disappoint. Her strip tease was sensual, suggestive and there was more than 6 feet of hard cock waiting to have her. By the time she was naked, she was on her knees, servicing multiple cocks. She was greedy, sucking and licking each cock just enough to tease before taking the next cock. She was presented with variety of cock sizes, shapes, circumcised, uncircumcised, hairy, and bare. A few of the guys were so girthy, she could only fit the tip in her mouth. She deep throated several guys so good that they needed to pull out, so they didn't cum so soon. It was obvious that she had a few favorite cocks for which she was insatiable. She was eager to have their balls in her mouth too.
"What a good cock sucker you are," I encouraged her, as I stepped in to reposition her on her back with her ass at the edge of the bed.
I put a generous amount of lube on my hand and pressed my palm into her vulva with a circular motion. She was dripping wet but would need lube to take the room full of cock. Now the guys were taking turns fucking her mouth and fucking her pussy. One guy couldn't hold back and came in her mouth and on her face. She had a look of pleasure, like she was saying to herself, "I did that!" She earned her first tally mark on her right ass cheek.
Now it was clear that she had favorite cocks. At least two of them made her moan uncontrollably and cum. The little whore was dick drunk and she owned it. She was eager to have those cocks in her ass. By then, she was ass up head down on the bed and she was getting pounded into the mattress. She had cum dripping from her holes.
She soon had nine tally marks on her left ass cheek and one tally mark on her right ass cheek. Before everyone had a turn at her ass, I directed the action so she would get double penetration. I had her take a break, drink water, and wash off in the shower.
When she returned, I expressed my desire for her to experience double penetration. There were five men eager to oblige her. I had one guy lie on his back while Sabrina squatted over him, pressed his hard throbbing cock into her ass, and lay back on his chest. She was in a missionary position, so the next guy mounted her, penetrating her pussy. He was thick and methodically thrusted with strong hips opening her cunt.
He grasped her by the throat and fucked her hard. His cock was working for her. She closed her eyes, moaned, and came hard, squirting and making a mess. This continued with the other three men while others used her mouth.
By the time her ass was full of tally marks, eleven on her left cheek and 7 on her right cheek, she had cum on her face, in her hair, and cum dripping from every hole. She was a mess with a look of guilty pleasure and contentment on her face.
As a closing gesture, I had her on her knees, kissing each man's cock and thanking them for using her. Afterward I told her to dress and that we would leave immediately, making her endure the drive home with cum dripping from her holes and the taste of cum in her mouth.
I stopped at a gas station to fuel the car. It was late and we were the only car on the road. The attendant in the convenience store was the only person in sight. "Sabrina, you need to pay for the gas," I stated. She looked at her envelope of cash sitting on the seat. "No darling, not with the money you earned," I explained, "go to the attendant and offer that you will service him with your mouth in exchange for a tank of gas." She was obedient, making her way into the convenience store. From the pump I watched the brief exchange of words between them. She made her way behind the register with him and disappeared under the counter. Seconds later, the pump was primed, and I was filling the tank while she serviced him. Just as I replaced the fuel cap, Sabrina returned, wiping the corners of her mouth. I smiled at her, "such a good girl." "I got a pack of gum too," she smiled.  
When we arrived home, I took her into the shower, bathed her, and caressed her. We fell into her bed, and I held her as we slept. I looked forward to hearing her feelings about her night as a working girl.
© 2023 Red Hot Red Erotica