© 2022 Red Hot Red Erotica 
The flight was quick and easy,
 she headed to her hotel feeling prepared for her client meetings scheduled the next morning. She was looking forward to relaxing in her room and getting to bed early. She checked into the beautiful city hotel, it was charming, filled with good looking people and had an aura of seduction. She laughed to herself as she thought of her husband always teasing her that if she were a little kinkier, she would find some hot guys to seduce on her trips and he would want her to tell him all about it.
After checking in, she made her way to her room, upon entering she was surprised at the posh sitting area at the room entrance. She set her bag aside, plopped down on the sofa, kicked off her heels and took a deep breath. As she exhaled, she realized that there was the sound of running water, like a shower. She looked around and spotted the bathroom door, slightly ajar. WTF she thought…someone left the water running. She stood up, walked to the bathroom to turn off the water. As she took in a beautifully appointed bathroom with a large glass shower…and she realized there was a man in the shower. Immediately, she could see a very attractive, handsome, well-built man. As it took a moment for her brain to process what was happening, she realized she was staring, and their eyes met. By now the man shut off the water, opened the glass door and in a relaxed, deep voice said, "May I help you?" She was frozen, she wanted to avert her eyes and apologize yet she was speechless. Her feet would not move, and she could not stop looking at him. He was so attractive, and the sight of his naked body made her tingle…she blushed. She tried not to look down at his genitals but could not resist another quick glance. After another moment she stammered, "I am so sorry…they checked me into this room…they made a mistake."
He was so calming in his approach to what was happening and exuded so much confidence, that she started to feel, well, comfortable…like he just took the awkwardness out of the situation. As he reached for a towel, she could not help but look him over top to bottom. He was built like an athlete, well-muscled, and had an impressive cock. It swung with the movement of his body as he reached for the towel…it looked…thick, long, and heavy. "Let's just call down to the front desk and sort all this out", he said as he wrapped the towel around his waist.
He introduced himself, "My name is Michael". In a now sultry voice she said, "You are very nice, Michael. You can call me Red." She followed him from the bathroom to the phone in the sitting room. He looked into her eyes as he dialed the front desk. He explained the situation to the person on the phone. She could tell they were apologetic by the tone of the back and forth. "Not for an hour?", he asked. "Well, this is very inconvenient for this nice lady", he said. "What can you do to make it up to her?", he pressed. He cupped the phone's mouthpiece to tell Red that they would have a room ready for her within an hour. "They will upgrade you to a suite and buy you dinner at their 5-star restaurant."
She was barely tracking what he was telling her, she found herself mesmerized by the sound of his voice, feeling very tingly with desire, and blatantly staring him up and down, wishing to see what was behind that towel. She never had any desire to take her husband up on his challenge, though there were never hot guys standing around in towels she thought, again laughing to herself. In her mind it was a nervous laugh, and she was suddenly very aware of how hot and bothered she was in the moment.
By now he had hung up the phone
and was standing facing her. "Red, they'll have your suite ready in an hour. You're welcome to wait here, or join me in the shower", he said boldly. Her long downward stare came back up to his eyes. She was now full on desirous and badly wanted to have him. He stepped forward, now standing inches away, her face at his chest level. She closed her eyes and lustily leaned forward to kiss him. He put an arm around her waist, the other hand gently around the back of her neck and pulled her into a deep kiss. The kiss became a full on make out session. She was intoxicated with desire. As they kissed, he started to fondle her and unbuttoned her blouse. She was relieved that she had worn her sexiest bra and panties. Before she knew it, that was all she was wearing.
Red, typically, was not that kind of girl, but there was no way she was going to miss this opportunity. "You little slut…", she thought to herself. The arousal was so intense that she fell to her knees, pulled his towel away and started to caress his large, heavy, magnificent cock. It swelled as she touched it. She stroked it with her hand, cupped his testicles, and took as much of him into her mouth as she could fit. While she was busy licking and sucking, he undid her bra and started to rub his hands across her back, shoulders, and firmly fondled her breasts. The feel of his hands on her was sensually electric on her skin. His cock was now fully erect. She had never seen one so large. She was a little concerned about the size, yet so excited that her pussy was tingling, and she felt butterflies of excitement that made her short of breath. Michael took her hand and motioned for her to stand. Then he wrapped one arm around her waist, put his other hand under her thigh and lifted it to his waist. His hands were large, and he was strong. As he lifted her leg her whole body came along for the ride, and she wrapped both legs around his waist and her arms around his neck. His hands were under her bottom, holding her in place like she weighed nothing – – she felt like a toy in his hands. She could feel his erect cock rubbing her girl parts as they continued to make out. He slowly walked to her to the bed, gently laying her down. His cock was now resting on her pubis, with the head extending to her belly button. "I don't think that will fit," she said. He replied, "The fun part is making it fit." He started to rub the thick head of his cock against her vulva and clit. It was warm, heavy, and quickly it was glistening with the juice of her very wet pussy. She reached down and pushed the head into her vagina. He pushed it in deeper. Her eyes widened and she gasped from the intense sensation. She had never been stretched like this. It hurt a little bit, in a good way. He slowly, slid it out and back in a little deeper. She could feel herself opening, like her body was submitting to this very hard, very large, warm, cock. He put a hand on her breast and firmly squeezed, kissed her some more and started to penetrate her more intently. His cock was penetrating a little faster and started to hit places and create sensations that she never felt before. The buildup was beyond intense. After a few minutes of kissing, fondling, and fucking she could feel an orgasm coming from deep inside. The sensation was so strong that she held her breath. Then it hit her like a nuclear explosion. Her hips started moving uncontrollably and he pressed in deeper. The sensation continued to build, and she orgasmed for what seemed like minutes – all while gasping and softly moaning. It was so intense she thought she was going to pass out.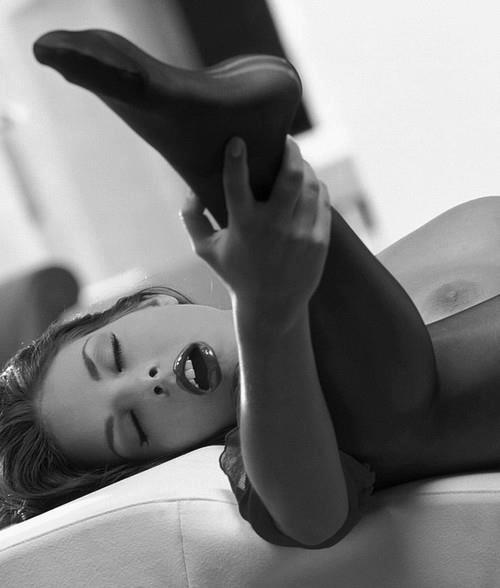 Her pussy no longer felt tight.
It was sopping wet, gaping open, and taking every inch of him. Now he started to pant and quicken his pace. His cock swelled more, and she knew he was going to climax. She wanted him to explode inside her and whispered in his ear, "Give it to me".
No sooner had he finished and there was a knock at the door. It was the manager. She had come to take her to her new room. She hurried to dress, embarrassed that she was disheveled, hair amess, and smelled like sex. "Oh God, he smells good", she thought to herself. While she finished dressing, Michael donned a robe and answered the door. "Hello Mary", he greeted the manager. "Thank you for taking care of Red," he said. Mary replied, "Yes, I'm so sorry for the mix-up." Red came from the bedroom, grabbed her heels and bag. "Oh, it's no problem…", Red said cheerfully. "May I buy you a drink this evening, Red?", Michael asked. "Only if you join me for dinner," Red replied. "Deal!" he said.
With that Mary took Red to her suite. Eyeing Red as they walked, Mary said, "So, you've met Michael…"
© 2022 Red Hot Red Erotica