© 2022 Red Hot Red Erotica
Locktober has begun again.
Without any reminder from me, Red announced that she would be locking me in a chastity cage, as she did last year. In the kink world there is an event called "Locktober". That is the practice of a key holder locking their partner in chastity for the month of October. This story is from our experience last year: Red wanted to fuck before starting Locktober…so she clicked my cage shut on October 3rd. We have a couple trips planned during October. Traveling in chastity is a thrill…I have yet to get caught by TSA while locked in my metal cage…hmmm. Now it is more than eight days or 200 hours of being locked full time. I don't know how, but I go from getting off three to four times a day to complete chastity. It's not about her being a Hotwife or Cuckoldress and fucking others while I'm locked…though I would love that. The power exchange is about her taking control and doing it the way she wants. Maybe she wants a massage, skin on skin contact, to be orally serviced or just to cuddle. Whatever she wants…so it is.
Our relationship is mostly traditional, meaning that we have an egalitarian approach to our marriage. We both contribute equally to living our life together. Most of our sex play is vanilla, where I take control of providing her pleasure and taking pleasure with communicating about what we both like. However, when she locks me in chastity, there is more of a Female Lead Relationship "FLR" vibe. I would say that is two-fold; (1) male chastity is a kink that creates a Dom/Sub "DS" power shift and (2) when locked in chastity, the male brain experiences a chemical change that makes the male more compliant. Perhaps there is a (3), that the female brain also experiences a shift from the power of holding the key and being the decision maker of when the chaste is released.
October 8th: Sometimes she will torture me by caressing my balls. It takes mental effort to stay relaxed and not get aroused in the cage.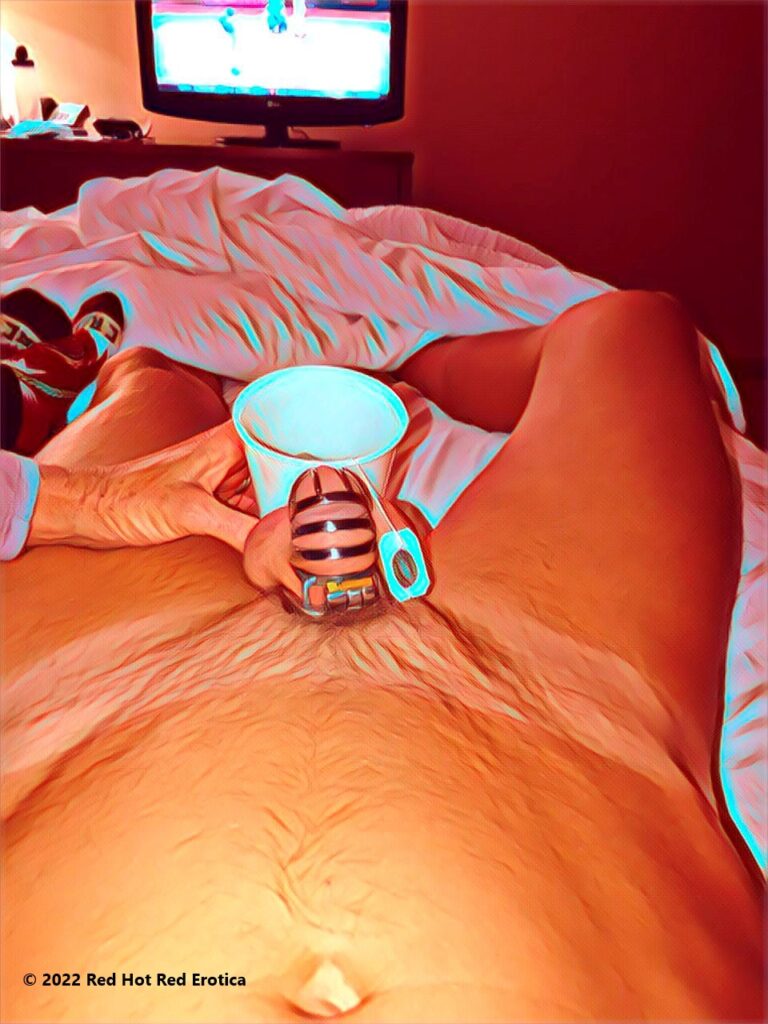 Tonight, she was comforting me, holding her warm teacup against my balls. Little gestures like this are memorable and make me feel more bonded to my keyholder. The mental aspects of this kink are rich, though hard to put to words. You must experience it to understand.
My exhibitionist desires are strong, even wearing a cage. We are at a hotel and had fun streaking naked down the hallway from our room to the jacuzzi last night. She was both nervous and thrilled. I was hoping to get caught. No such luck.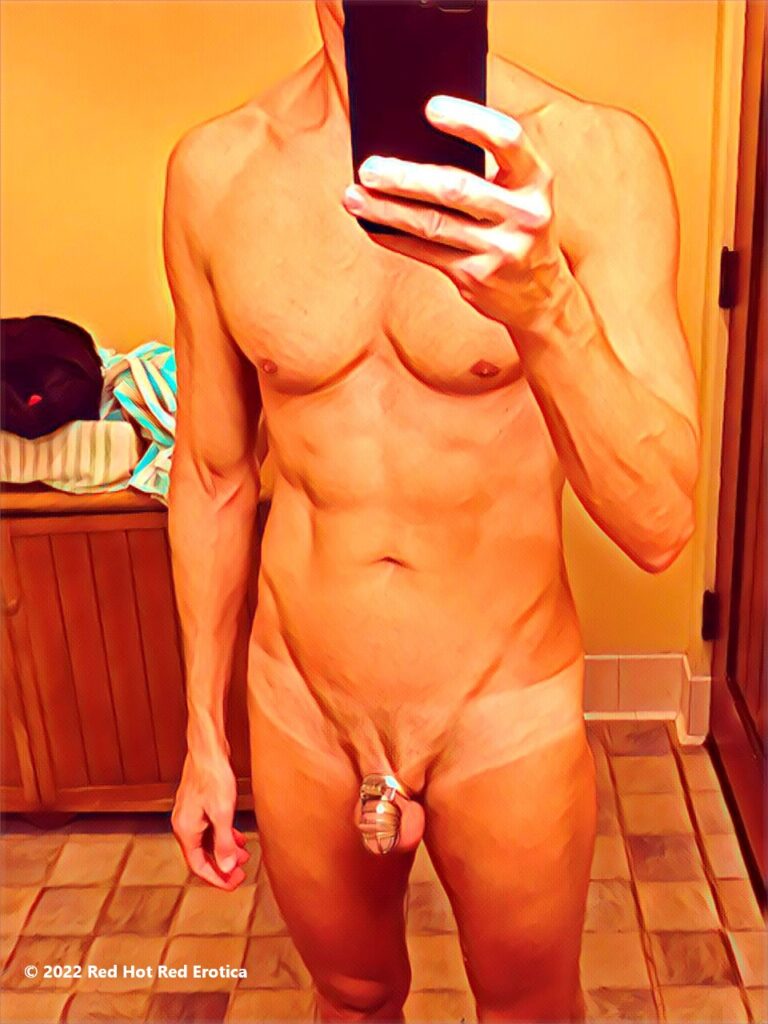 It is now the second week of October. I am back home, and Red is off on a business trip. She has the key with her, so I am really on my own. Last night she was sexting me. She sent a close-up of her pussy. The visual triggered my olfactory memory. Ughhh…I can smell her in my mind. She is ramping up my angst and desire.
October 16th: We still have sex while I am in chastity…though it does not involve my cock. We had a nice kink session, an hour plus of exploring her body and massaging her. Then, as she lay on her stomach, I positioned the magic wand between her legs as I rubbed her skin. Before long, gasps were escaping her. I flipped her over to eat and fingering her. Then, while she rubbed her clit and vulva, I massaged her breasts and watched her face building toward orgasm. To vary the sensations for her, I lie on top of her in a missionary position while she continued to masturbate, now using a bullet vibe. I gently bit her jaw, kissed her face, and passionately kissed her mouth as I pressed the weight of my chest against hers. She came in waves, gasping at the intense sensations running through her body. It is an incredible experience to be caged, focusing only on her pleasure, and doing so with no penis in vagina.
Then she put on lingerie, heels, her strap on, and pegged my ass for 20 minutes. Ladies…you may not be comfortable taking a dominant position in the bedroom but please give it a try. The power exchange is hella fun.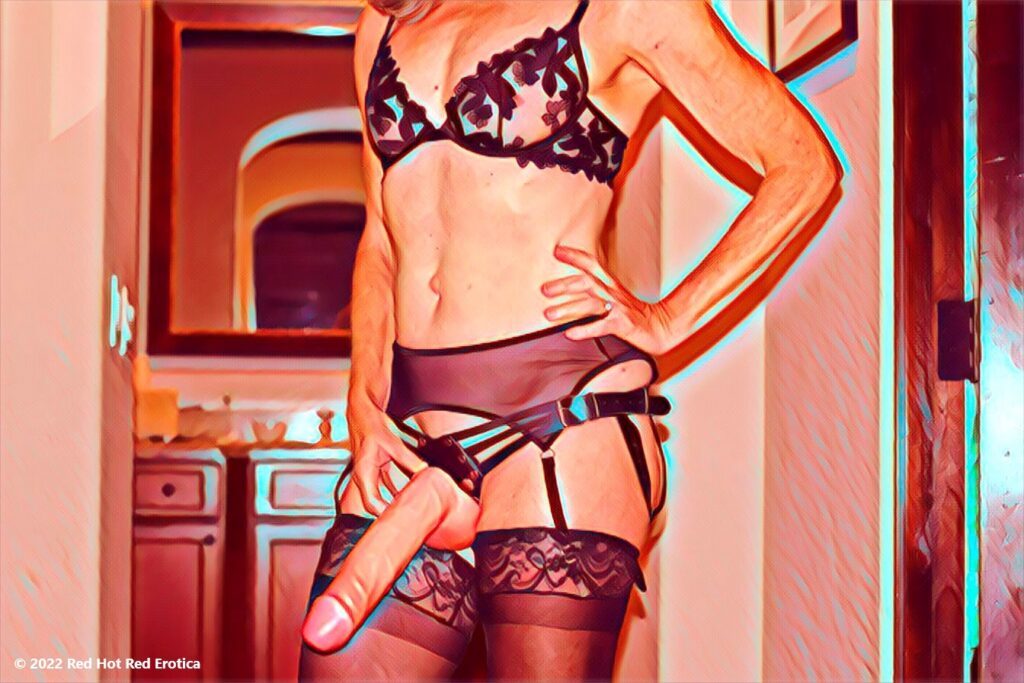 I love the sensation as she rubs the head of the dildo around my asshole and taint, then rubbing my ass with her hands as she penetrates me. I love the feeling of her pulling out and thrusting back in. I also love filthy dominant talk coming from her…"Put your ass up for me", "Show me your bitch hole", "I'm doing the fucking tonight". An effective mental domination technique is to make a declaration followed by a confirming question, for example, "You like when I fuck you, don't you?" If I do not answer, she will slap my ass hard and repeat the question. Sometimes I answer and she will pretend she did not hear me. Her: "I'm sorry, what do you like?" She makes me say a complete sentence. Me: "I like when you fuck me." Her: "Where do you like me to fuck you?", she presses further. Me: "In my ass." Her: "And what do we call your ass?" Me: "…my…bitch hole…". Her: "That's right, and I own your bitch hole." Nasty, dirty talk, and I love it.
October 19th: One of my all-time favorite porn stars on Only Fans (Rosie, a.k.a. Ginger Knickers) had just released a new video. She is a size queen and loves to masturbate with girthy toys. I told Red that Rosie had a new video, but I had not watched due to the torture of being caged (day 17) and not able to masturbate along with Rosie. She said, "Oh…I'm definitely making you watch that." So that night we watched Rosie masturbating with a dildo replica of the porn star Black Thunder.
We enjoyed watching Rosie climax three times. When she turned around to fuck her toy giving a nice view of her ass, Red said, "There you go honey, your favorite angle." I do love all the visual of fucking doggy. I was very aroused, and my cock was straining in the cage. I let out a moan of frustration and reached down to adjust the cage position because it started to ache. She grabbed my hand and said, "Uh uh! No touching!" At one point in the video, Rosie was chatting about having her ass eaten while fucking. I said, "Baby, if you are fucking another guy like that, I'm definitely eating your ass at the same time."
That night was challenging. Rosie's video got me so worked up that I woke about every hour to the ache of getting an erection while wearing a cage.
October 20th: I noticed Star, my favorite IG foot model posted a video wearing new heels. Her legs and feet were oiled, and she was running her toes along the edge of the shoe…very suggestive.
She loves giving footjobs. Knowing this made the video very arousing, just imagining what she would be doing to me with her toes.
Ughhh…I cannot wait to fuck Red. Locktober is challenging. Out of desperation I was using a penetrating prostate massager trying to get some relief. Unfortunately, I have only ever had one prostate orgasm while caged and it was unexpected. A couple years ago, while Red had me caged, I was desperately horny and trying to get some relief by sitting on a Magic Wand to stimulate my prostate. After a few minutes, an intense sensation started to build within and I ejaculated, shooting cum two feet in the air. Prostate orgasms are different than an orgasm from genital stimulation. It is deeper in your body, more intense, wave like sensations emanating from within. This Locktober I have been on a mission to figure out how to make that happen on command, through penetration. As of now the result is just milking the prostate, which does provide some relief and feels good. But it is definitely not an orgasm.
October 25th: A new sex toy arrived. I do not want to scare anyone…just know that my ass can take a lot. This is a new strap-on toy for Red and it is a monster. It is the Atlas XL from Mr. Hankey's Toys.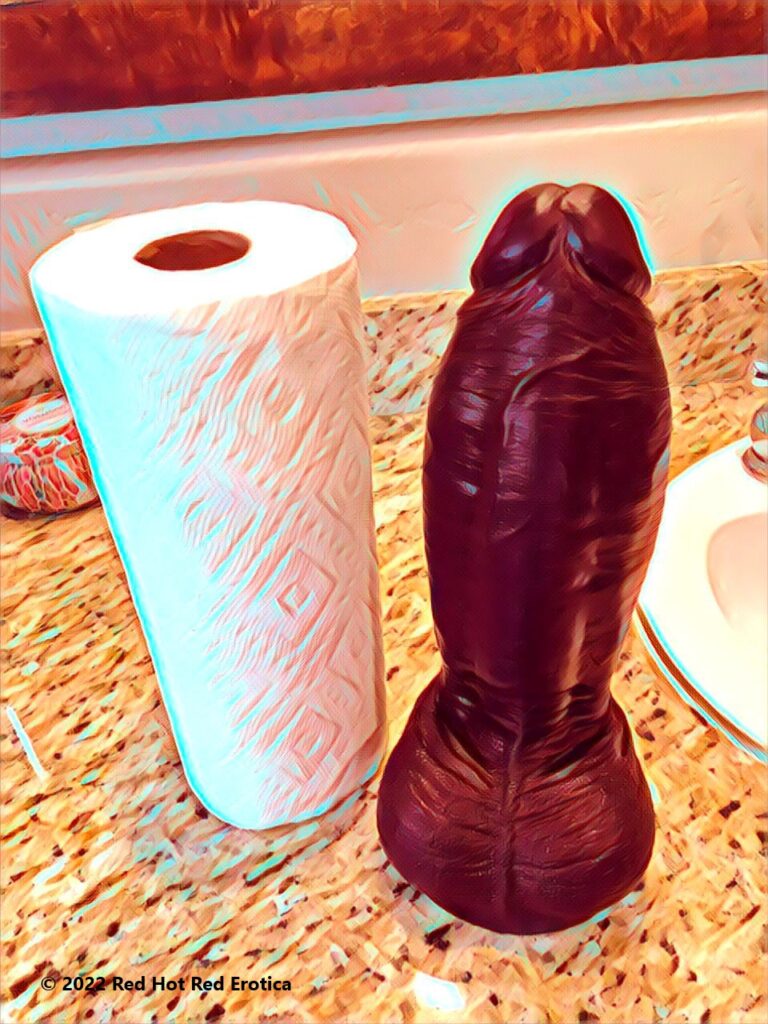 I have never had a real cock up my ass, but the reviews on the website claim it feels real…and I must believe it. This thing feels incredible. Red has not fucked me with it yet, though I have used it the past three days. Still no prostate orgasm, but damn, yeah, it is exceptional.
November 5th: Thirty-three days in chastity and we are now on vacation in Cabo San Lucas.
This morning, Red unlocked me. We were deep kissing and fondling each other. As she touches me, I am thinking that this is close to being a virgin again as one can come. She takes my cock in her mouth, sensual, and caressing. I go down on her and give her an orgasm. She gets on top of me, sitting on my face and grinding on me, then starts to ride my cock. I am overly aroused and don't want to cum yet. I eat her again, to calm myself, then we fuck some more. I cannot deny my arousal and orgasm hard. She drains me.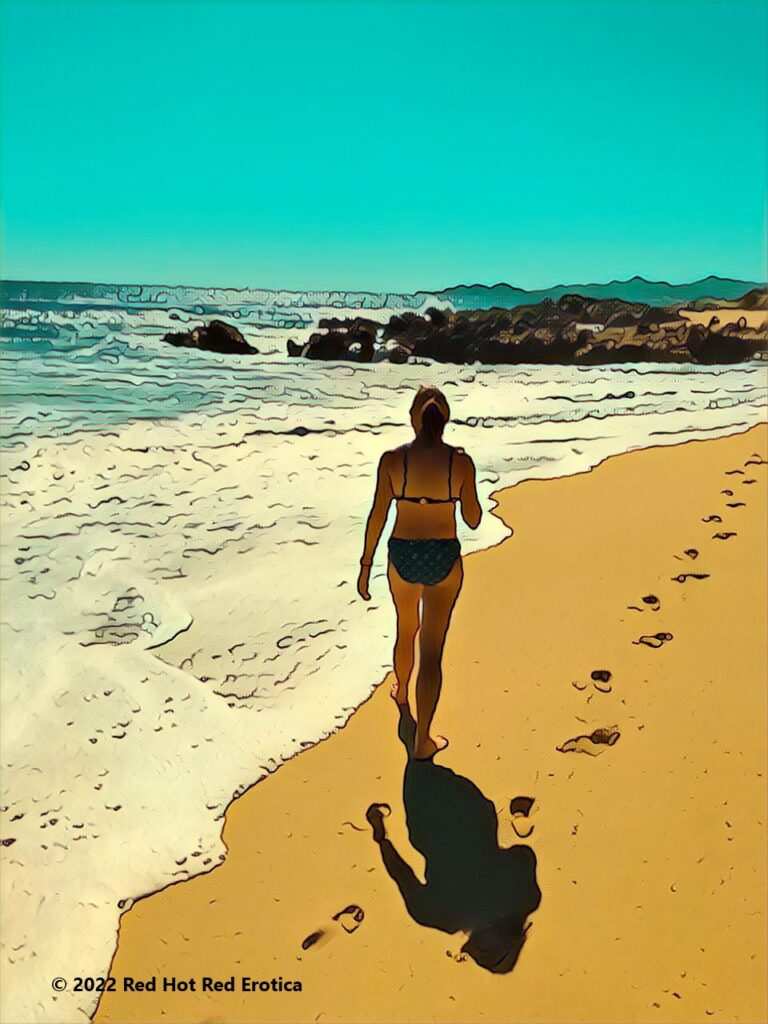 Epilogue: The anal orgasm is still eluding me. No lack of trying. Red was reading this prior to me posting. She said, "The ass play is pretty much cheating Locktober. I think I'll hide those toys for the month." Now that's just mean. 😈
© 2022 Red Hot Red Erotica