© 2022 Red Hot Red Erotica 
November 5th: Honestly, I have no idea when Red will unlock me.
She has total control and I have now been locked for 34 days. For serious chastity kinksters, Locktober goes right into (no nut) November. We've never done that before…
Yesterday morning, she announced, "Your little dick is staying locked and I'm going to fuck you tonight." Fast forward to the evening, she showed up in crotchless, nipples showing lingerie and told me to get her strap on. She put it on, then had me kneel in front of her to put a condom on the dildo. She said, "Not too tight, leave some space for the cum." That was awesome. You can put someone into subspace with dirty talk like that.
She had me kneeling ass up, head down, and lubed up the dildo. "Spread your legs wider," she instructed, giving herself a better angle for hip thrusting. Using her fingers, she rubbed circles around my asshole, teasing me, then doing the same with the strap-on. Then she penetrated my ass, starting with just the head before giving me 6-8 inches of the shaft. She's good and it felt awesome. For a good 20 minutes she worked my ass while also using the Magic Wand to vibe my perineum and added in a good amount of slapping my ass with her hand.
While fucking me, she created a scenario to dirty talk, which she knows turns me on. She described, "We are in a club….while I'm fucking your ass, an attractive well-hung man is standing over you and I'm sucking his cock. Then another woman sits in front of you, and I instruct you to eat her pussy while I'm fucking you." Quite impressive that she pulled that one out in the moment. Afterward I ate her pussy, and we went to bed.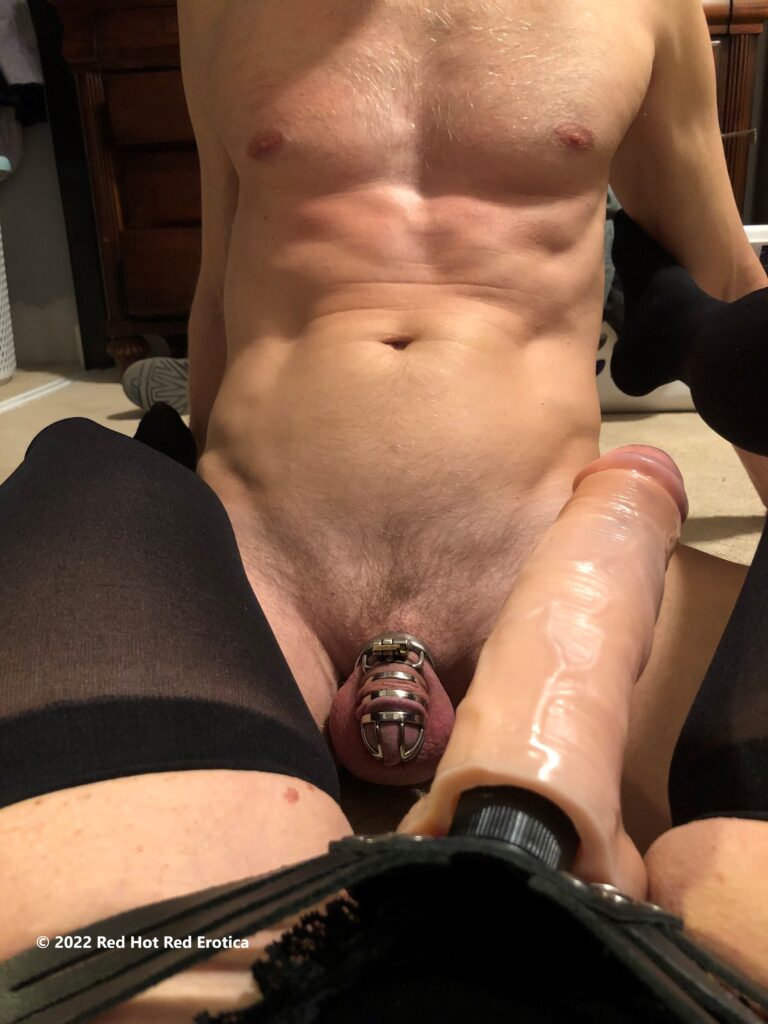 Red is quite good at Femdom and playing a dominatrix. The prostate orgasm continues to escape me…I think we need to go to a BDSM sex scene and make the fantasy reality. Maybe that will help things along…
Epilogue:  November 6th, Red final unlocked me after 35 days wearing a chastity cage. Before she would unlock me, she had me go down on her while using her bullet vibe. Think of a slow, sensual make out session giving her waves of multiple orgasms. Only then did she unlock me, tease me with her mouth and ride me. Honestly, sex after prolonged chastity is the closest one can come to feeling like a virgin and doing it for the first time. I finished, like an overly excited 18-year-old, lying on top of her.
© 2022 Red Hot Red Erotica