© 2022 Red Hot Red Erotica
October 15th: Part of the fun of BDSM is being outed.
I guess that is a form of humiliation, which I like.
For example, I am not particularly hairy, though I do enjoy keeping it neat with regular waxing of my balls and underside. Plus, ass play feels better with no hair. My esthetician is familiar with male chastity and what it means to be a key holder. Red sent me to her to get waxed this morning. I was locked, with the chastity cage key in a lockbox. Red texted my esthetician the combination code so she could unlock me for the waxing. She had me lying on her table, caged and naked, while she tended to my eyebrows and ears. Then she unlocked and removed the cage to wax my shaft, balls, and underside. When finished, she promptly locked me back up and put the key back in the lockbox for Red. The loss of control, submission, and when someone knows I am wearing a chastity cage, makes my brain come alive.
All this kinky stuff is great. Though there are some benefits and worthwhile experiences to be had with chastity that are not kink related. When another is in control of my sexual release, that means I go from getting off 3-4 times a day to…well…not getting off. The whole day becomes a meditation to stay relaxed. Yeah, getting a hard on in a chastity cage can be painful.
To me, one of the greatest benefits of chastity is how it changes sexual encounters. As a penis owner, when I have sex, my penis is involved 100% of the time. It's going to get sucked, and it is going to penetrate, it is going to get me off. With the cage on, the penis is not involved in the sexual encounter. At least it is not going to get sucked, it is not going to penetrate, and it is not going to get me off. Without penetration, hands and mouth become the focal point of pleasuring her. Eating her is not foreplay…it's the main event.
October 8th, Saturday morning started as I expected. Red told me last night, that I would be servicing her in the morning. She stirred, awoke, and gave me an "ahem". I started rubbing her body, her breasts, and her ass. I took my time tracing my hands all over her, squeezing her skin, getting her hot and bothered. "Ok…I need you to get busy," she said, pushing my head down. I had a full on, make our session with her pussy. Fingers, hands, mouth, tongue, sucking, caressing, licking, fingering. She came three or four times and was purring the rest of the day.
October 9th, Sunday: While locked, I feel even more inclined to want to pleasure her. There is something extra hot about wanting to pleasure your partner, knowing that it will not be reciprocated. It says, I want you and there is nothing more in it for me.
We were in bed for the night. I took initiative, started fondling her. Grasping her legs, tracing my hand up her ass, slowly sliding my hand from her ass, across her body to her breast, slowly rubbing and squeezing each and caressing other body parts. I started kissing her. Sensually making out, sucking her tongue, straddling her, gently grasping her throat while continuing to make out.
She was wearing soft pajamas. The top was sleeveless, and the bottoms were short shorts.  I slid my hands and face down her torso and started to tease her through her shorts. Knowing there will be no penetration is a great way to up your oral skills. I pulled the fabric taut against her pussy and ass, flossing it slightly back and forth. I slowly pulled the shorts aside, exposing more and more of her pussy and caressing each inch with my mouth. I pulled her shorts down to her knees. Her legs were together, and I pushed them back over her, exposing her labia. I continued eating her, though I am not sure who was getting the greater tease. At some point I need her shorts to come off because I want to fully spread her legs and bury my face in her. I want her wet, sloppy, juices flowing all over my face. I want to feel her engorged vulva and throbbing clit in my mouth and hear her moans. By the time I was sucking her clit and fingering her, she had multiple, explosive, gasping orgasms. She slept well, and I had a big smile on my face.
October 12th, Wednesday. I had a busy day, was ready to take a shower and fall into bed. Red informed be that she was going to peg me.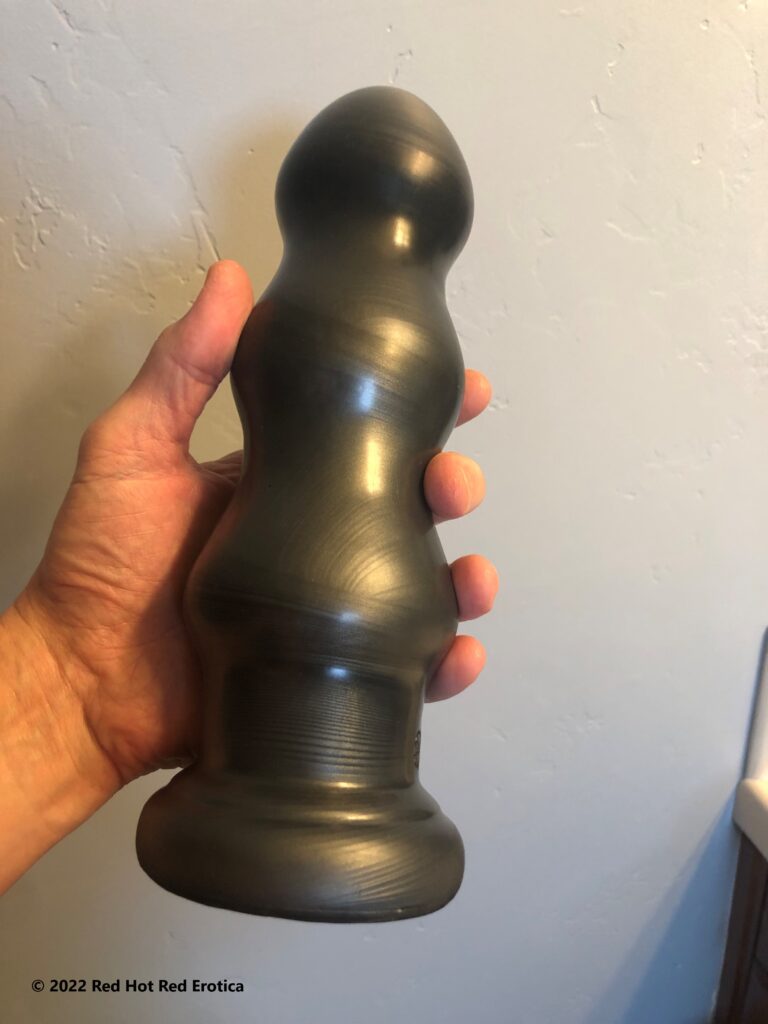 She pulled out a 3-tiered butt plug and told me to get down on the floor and put my ass up for her. She had me warm up with a generous amount of lube, fingers, fisting, then worked the plug into my ass. It is long, so she used it like a dildo. Pressing the first knot in and out and then the second knot. The knots feel good on the prostate. I cannot get to the third knot because the toy is too long. I can handle a lot of girth…like 12" plus, though only about 8" of length. She was pressing it in, past the first and second knot, then pulling it all the way out and thrusting it in again. The feeling of "thump, thump" and each knot slides in and then "thump, thump" as the knots slide out, is a satisfying sensation. She said, "I want to make sure things aren't boring for you while you're caged."
October 16th: Early morning I was up and doing some laundry…naked. Red came to the laundry room and looked me up and down and said, "Mmm, I love this…you naked, caged, wearing nothing except your Ugg boots, doing my laundry." I'm happy to do these things for her. xo
© 2022 Red Hot Red Erotica