© 2022 Red Hot Red Erotica 
Red and I had a fun week in Cancun and at Desire Pearl with lots of firsts.
Desire came highly recommended by several people we know in the Swinging Lifestyle, and it exceeded our expectations. The general rhythm of the resort is clothing optional pool/beach time morning and afternoon, naked hot tub late afternoon, dinner around 7pm, themed party around 9pm to whenever and playtime with people that you meet or with just your partner. There are also deliciously, sinful goodies along the way. Red and I indulged in the erotic couple's massage, private dinner with stripper entertainment and erotic photography session.
Our first day we arrived late afternoon and went to the hot tub. All the men are naked, and all the women have at least their tops off. Red went topless and I was all too happy to get naked. We had a fun conversation, just the two of us talking about what we wanted to experience during the trip. I'm game for pretty much anything and everything. We settled on wanting to experience at least three things; [1] having sex in front of others, [2] kissing other people and [3] getting erotic massages…so getting touched sexually by other people. Red is not ready to have sex with others, so we go her pace.
That first night, after dinner, we got dressed for the sensual red party theme. Her in a tight red dress and me with red briefs and a red and black velvet smoking jacket, Hugh Hefner style. After an entertaining strip show on the disco floor put on by the staff and four volunteers from the audience, everyone danced while we were absolutely wowed by a beautiful female patron who put on an amazing pole dance.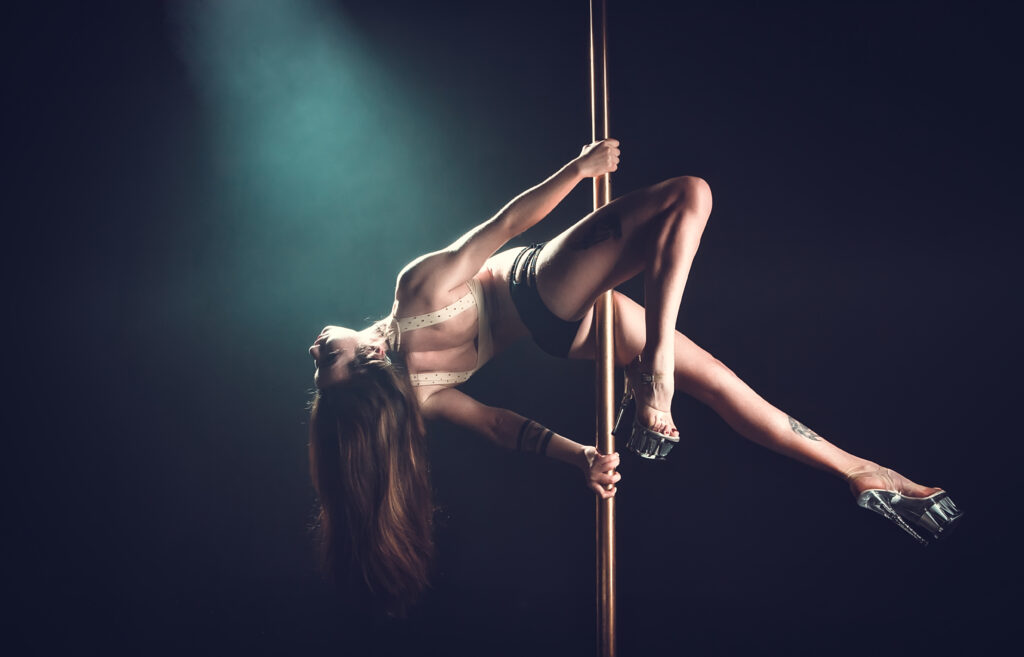 She was lean, shapely and had the complete attention of the room. Wow! Powerful!
Afterword, a couple that we met earlier asked us to dance with them, naked in the disco. Red and I shed our costumes and danced naked, with eight other people. By then it was midnight and I needed to take Red back to our penthouse deck and devour her. I stripped her down to just her high heels, kissed her, teased her pussy just enough to get her hot and bothered, then took her outside, ate her to orgasm and fucked her hard. Sex outside, in the warm evening breeze, with her high heels was the perfect ending of our first day.
The resort has a great gym that we used to start our next day and after breakfast, we were comfortably naked at the pool. Lifestyle people are amazing, warm, and engaging. You can talk about things with LS people you just met that you would not discuss with your best vanilla friends.  Honestly, one of the best parts of LS events is meeting new people and making connections. We skipped the afternoon hot tub social for a very good reason.
Red was back in our suite, being prepped by two make-up artists for her boudoir photo shoot. I was not prepared for how gorgeous see looked. Jaw dropping, magazine cover, glamour girl, beautiful! I mean, she is beautiful with no make-up. This left me wide eyed and staring.
Then, in walks the photographer, Jahel. Some may call her bossy. She is in control, and very sexy. She immediately surveys the room, directing me to move luggage and anything that will be a distraction in the photos. Then she says, "Girl, put on your lingerie and come to me." She has Red in a variety of settings. Against the wall, on the bed, in a bubble bath. Red found herself in new poses and positions…learning new tricks. Jahel had me in black sheer briefs, on the bed with Red the focal point, and she instructed me, "Ok, now do your job." I was a little slow to grasp what she meant. Jahel rolled her eyes. "You know, go down on her," she explained. "Ohhh…I'm happy to do that," I replied. As I "did my job", she directed Red to various poses. I made the mistake of pausing and she corrected me, "Keep doing your job!" Yeah…that was hot.
She instructed me to get into a pair of jeans with no briefs. "How do they say," she searched for the word, "I want you commando." Red had made her own outfit change to a lacey panties and high heels. "I want you on your knees," Jahel instructed her. "Unzip his pants," she directed as she captured intimate shots. "Ok, pull his pants down and suck him." Suddenly I felt like a porn star requiring an instant arousal to perform. She held the camera in one hand, the other hand on her hip. "Girl, get him hard," she instructed. Red was doing her job and fluffing me. After a minute Jahel continued taking pictures. We ended the shoot, naked, in the hot tub on the deck, with amazing pictures of Red and me kissing. (See Jahel's social media link in the photo below.)
After that amazing photo session, we went to a private dinner with two other couples that included several courses with a sommelier and stripper entertainment put on by two beautiful women and a fit, handsome man. They put on an amazing personal show for our small group. These girls were gorgeous with the softest skin. The dessert included eating pastries off their bodies. I was a little biased, eating my dessert off one of the women.
Rock Stars and Movie Stars was the party theme for the evening. Red had on what I can only describe as a Gogo dress, pink heels, jewelry, an nothing more. I wore black, waxed jeans, a black mesh top, shiny silver jacket and silver shoes. We had a rock star and groupie look.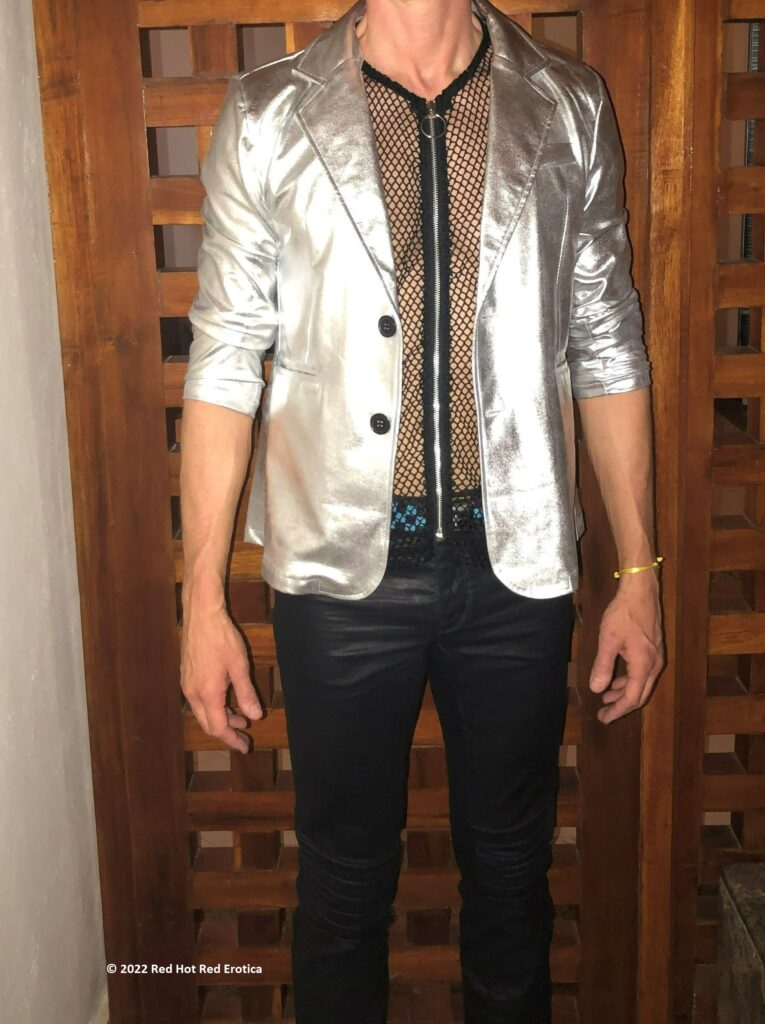 There was more entertainment and dancing in the disco. After dancing we were socializing with an attractive interracial couple. He is American and she is European. Let's call them F&M. I asked them their story. How did they meet? They met at a LS party and had been together for 7 years. They asked our story. "We're newbies and this is our second event." F was taking a liking to Red, teasing her, playfully pulling at her dress, "What you got going on under there? You're so pretty." Red turned so he could see her booty, and she hiked her skirt up showing that she wasn't wearing any panties. "Girl, I want to play with you," he encouraged. I said that we hadn't played with others yet. "We'll why not?" he inquired. "Girl, what are you waiting for? Don't waste the pretty." Those are words of wisdom for everyone…Don't waste the pretty.
Later, in the hot tub, we spent more time talking the F&M. M is very elegant, graceful, with a beautiful face and hot body. F is a handsome man with a thick cock. I was holding Red in my lap as we socialized. F was mesmerized by Red. "You are so pretty. May I touch your skin?" Red gave him permission as he stroked her shoulder and waist. After a few minutes, I asked Red, "may I put you in his lap?" She agreed and that made F a happy man. He was delighted to touch her soft skin. "You feel that baby? That's all you," he said, letting Red know that she was the reason for his hard on. She reached down and stroked his thick cock, "Oh, I feel it," she replied. Red got her first kiss from another. F looked like he was ready to swallow her up, though she was not ready for more than kissing and light touching.
People were leaving the hot tub to playrooms, while others stay at the outdoor hot tub and have sex on the day beds that encircle the hot tub. Red is not the exhibitionist that I am, though knowing how much I love that, she is GGG (good, giving and game). We grabbed some pool towels, made our way to one of the day beds and got busy. We were kissing, I went down on her, eating her beautiful pussy and she took her time sucking my cock. We enjoyed a variety of positions. I think doing it doggy, with her ass at the edge of the bed, me standing, was my favorite part of our public display. When I finished, we turned side spoon and watched the couple on the bed next to us fucking.
Our next day started with the same routine, a good workout, breakfast and getting naked at the pool. Later that afternoon we had an erotic couple's massage. The spa room had two tables side by side, a spa tub, chocolate covered strawberries and Champagne. Red had a male masseuse, and I had a female masseuse.  They had us start face down and got to the erotic part quickly. My masseuse's hands provided enough pressure for deep tissue work on my back and shoulders and a light, teasing touch on the genitals. I love tease and denial and she took her time with the teasing, building my arousal, before providing some more intentional stimulation. By time she had me turn on my back, I was wanting more, and she did not disappoint, though I wanted to orgasm with Red after they finished our massages.
Toward the end of the massage, they pushed our tables together. Red's masseuse was giving her a hand job while my masseuse was now caressing her breasts and nipples. They were making a team effort to give her an orgasm. I enjoyed watching, though Red wasn't relaxed enough to climax. When they left us alone in the room, we kissed passionately, I went down on Red, and she multiple orgasms within minutes. I could barely wait to fuck her. After all that teasing and edging, I came very hard. Afterward we sat in the spa tub and relaxed. Chocolate covered strawberries never tasted so good.
That night was the BDSM party theme that I had been eagerly awaiting. Red wore sexy lingerie with her set of Mariemur leather with black heels, and I wore my leather harness, leather strap briefs, and black boots. I decided to conceal the look with black jeans and black tee shirt with the motto "He / Him / Hole" labeled across the chest. I like shock appeal if you hadn't guessed.
The party started in the disco with acrobatic performers putting on a BDSM themed dance show. When the show finished and everyone started dancing, I stripped off the jeans and tee shirt to fully display my leather. Friends that we meet months earlier at another LS party had arrived that day, and we had a great time dancing with them and others with their outrageous costumes. The beautiful pole dancer was back at it, captivating the attention of everyone as she gave us a great show on the pole. I was mesmerized, and star struck by her.
We had made new friends that evening. Two of the beautiful ladies in lingerie sat on a sofa ready to take off their heels. I took advantage of that and gave the hotties foot and leg massages as we socialized.
Finally, by 1am or so, we made our way to the hot tub. The pole dancer and her partner were there, and I wasn't going to miss another opportunity to talk with them. Let's call them J&S and both were from Europe and living in England. I was not shy and let them know how much I enjoyed watching J dance on the pole. She was shy and quiet, and she lit up when was asking about her dancing. They had been to sex clubs before but were not per se swingers. I let them know that I very much wanted to kiss J. I did not press further as I planted the seed and could see there was interest. Before we knew, it was 3am and Red and I were ready for sleep.
The next morning, we slept in. It was our day to check out of the resort. We were not ready to go so enjoyed more time at the pool. There I had my last chance to have a kiss with J. They told me they had talked about my request, and she wanted to kiss me. We had some very nice French kissing and I gently sucked on her tongue. She approved! I got my wish and something I'll always remember, kissing the amazing pole dancer. I hope we meet them at another LS party. I want more of her.  
We socialized with one more couple in the pool who had just arrived. She was very fit and had a pretty, genital piercing. I asked her about it, and she happily showed us more closely. She described that it feels great with someone licks it. As you probably know, I love eating pussy. It is absolutely one of my favorite sexual acts. She said, "Well, tomorrow is my birthday and I'd love for you to eat my pussy." I was so turn on, just hearing her tell me was giving me a hard on. Sadly, we were leaving in the next 30 minutes, but I was happy to be exiting the pool with the chubby that the birthday girl gave me. I very much looking forward to our next Lifestyle event. xo
© 2022 Red Hot Red Erotica